What Makes or Breaks the Online Experience: UX/UI Design
June 17, 2022
AddBloom
Blog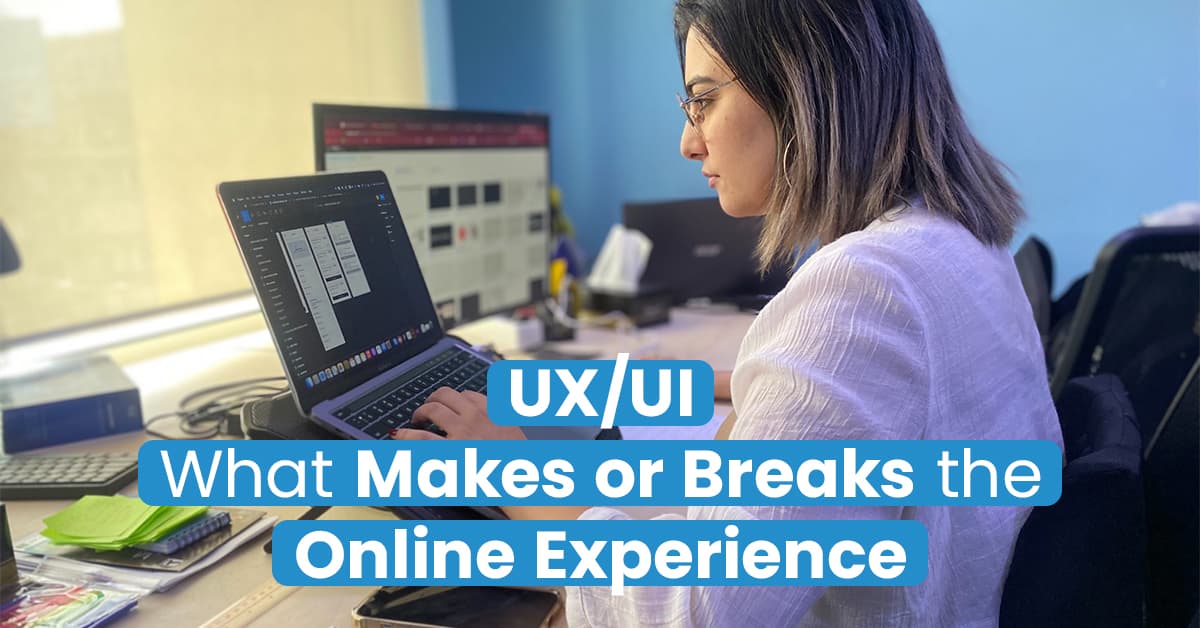 "Design is not just what it looks like and feels like. Design is how it works." ~ Steve Jobs
Terminologies:   UX:

 User Experience         

UI:

 User Interface
This is the ideal equation that summarizes the fundamental key points of any design system or product experience in the continuously expanding UX/UI Industry. It's as simple as that! Now, let's dig a little deeper into it.
In this blog we will explore the meaning of UX/UI, its importance in designing solutions and the latest trends to keep up with. To begin with, visualize a user/consumer visiting your website or mobile app for the first time while finding it difficult to navigate within the platform, complaining about slow tabs and unclickable buttons; without thinking twice, they will be out of your website/app in a matter of 3 minutes at most. First impressions are everything, and in this scenario, we haven't exactly given the best impression right? This is why we are going to tackle the basics of UX/UI for you to avoid going through a bad review after your hard work.
So, let's get started with the definition of these complementary roles in simpler terms. What is UX/UI?
User experience (UX) is the experience that a user goes through as they interact with every aspect of your website or app. User interface (UI), on the other hand, is the series of screens, pages, and visual elements (buttons and icons) that enable the user to interact with your website or app. That is:
UX is focused on the journey of the user using your website or app, was the goal achieved?
UI is focused on how the website or app looks and feels, was the visual appeal attractive enough to the user's eyes?
After explaining what UX/UI design means by definition, what is the importance of a good UX/UI design for business?
N.B. There is not one role without the other. UX and UI are different but complementary. One needs the other in order to be completed.
1- A good UX/UI design helps increase user engagement
This points out to the importance of a good website or app design that will drive more user engagement. This crucial interaction, if it is satisfying to the user, will turn them into potential leads. What is the role of a potential lead? They turn into customers thus bringing in more revenue for your business, as well as high brand awareness.
2- It helps build your brand
When you build a website or an app that gives users a smooth, convenient and easy experience backed with good visual elements and modern/trendy designs, they will be able to complete the action they were aiming to achieve. This journey will help in building your brand's credibility and reputation, and will lead to constant growth and improvement of your business in the long run.
3- Good UX/UI design equals effective SEO
An effective SEO strategy is crucial in aiding search engines to find and properly present your website to users online. This happens simultaneously with a smooth and easy website design. How? A well-presented website with no bugs and no glitches will top the rankings in search engines and in turn drive users right to it.
In Conclusion: A good UX/UI design consists of accurate study of the user market, understanding individual needs, making sure all pages are functional with minimum load speed delays, well structured responsive layouts, a user-friendly URL domain (all of that being the most crucial towards building an effective SEO strategy.) and an attractive exterior.
After we've covered the definition and the importance of a good UX/UI design, we will now dive into four of the latest trends in 2022. What's emerging?
N.B. Users are visual beings and will lean more towards these listed graphics below for better understanding of the platform:
3D Design & Animation
Used to add the flair to the interface, 3D design makes the visual experience more attractive and will boost the user experience all together.
Microinteractions
Small interactive design details that play a role in thrilling users and keep them engaged. Microinteractions can be either user triggered or system triggered as in they move alone. Examples are loading bars, pull to refresh and ringing bell notification alert.
Visualized Data
Supporting text with visuals to enhance the experience, and to make it user friendly and understandable. Examples of visualized data are infographics, maps, videos etc.
Dark mode is taking over
Switching to dark mode has been an option in phones and apps for quite some time now, but designers are now turning to dark mode interfaces. That is for its ability to make the text more readable, amplifying the colors and details of videos and images and reducing eye strain, keeping the user engaged for a longer time.
We walked you through important key points to have a better understanding of UX/UI design and the reasons why you should constantly update and maintain it. Now it is your turn to invest in it, drop us a message here and we will offer you the coolest experience!